The History of the Professional Ninja
I got an e-mail the other day, from someone "demanding" to know why I call myself a Professional Ninja. So here's the lowdown on the "Professional Ninja" claim.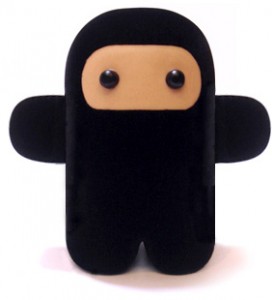 Years ago, when I worked in the convention circuits in Florida, I was well known for being hard to find, and appearing out of nowhere. At the same time, I was doing a lot of press work for my broadcasting company, and for other companies.
During a MegaCon convention in 2004, an entire crew of people were trying to find me, we're talking 30+ people. From Thursday Night to Sunday Morning, nobody could find me. People would speak of random sightings of what they believed was "DJ Killer" or "Killer Penguin", both names I went by back in the day. Then on Sunday Morning, the group was in the front of the convention, in the hallways, talking about where to get breakfast, when the destined question came upon someone's lips, "Where is DJ Killer, has anyone seen him?". Nobody said yes.
Then in a mastery of "Ninjitsu", I appeared from behind the group saying "I'm right here". They looked baffled, amazed, and some even frightened. Then the name came down…. "Con Ninja". Not only a Con Ninja, but THE con ninja. Con being short for Convention.Then they modified it to be "The Original Con Ninja / Professional Ninja". Professional came from the fact I was holding a Sony DSC-F828 and taking pictures with a press badge.
Whatever the reason, the legacy continued, without me even trying. While I worked for Kunicon / OtakuCon in Miami, FL where staffers could not find me when they were looking for me, but I appeared when I was needed. Convention after Convention, it stuck.When I went to Dragon*Con, Anime Festival Orlando, MetroCon, or any other convention, I was hidden deep in the shadows.
So then I began to use the term "Professional Ninja" to show a slight lean-back approach to my business life when I meet people. (some may think this is "unprofessional"). Then I attended a trade event for Advanced Micro Devices (AMD), and the name stuck like glue. In 2008, during an Intel ICC conference, I was known as the "Professional Ninja". Then a representative from Adaptec was giving away some awesome RAID cards, and the words "Is the Professional Ninja in the room" were said. Immediately, half the room stared in my direction.
So in conclusion, I did not choose the title, the title chose me. My personal path has many traits of that of someone who follows ninjitsu or was/is a ninja. Now you are more educated. So go out, spread the word of the Professional Ninja, Christopher Clai!